Many ingredients found in cosmetics may actually be harmful to your health and also contribute to significant environmental pollution. Certain chemicals commonly found in cosmetic products may also contribute to hormonal imbalances, leading to potentially significant negative health effects.
We are proud to carry a pure, certified, and effective medical-grade line from Nelly Devuyst designed with the utmost safety and efficacy. Formulated with the utmost respect for your well-being and the environment, the products are certified COSMOS® Organic by ECOCERT® GREENLIFE, vegan, gluten-free, hypoallergenic, fair trade, biodegradable, GMO-free, paraben-free, alcohol-free, sulfate-free and not tested on animals.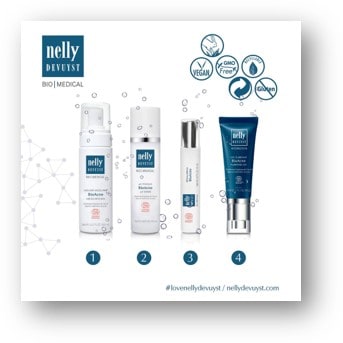 The Nelly De Vuyst® BioTense line offers 100% organic anti-aging skincare products that help lift and brighten mature and devitalized skin. These products are highly effective and respect the environment to the highest degree.
The Nelly De Vuyst® BioMedical collection is designed for oily skin, blemishes, acne, and rosacea- such skin concerns and conditions may affect any individual at any age. Specialized topical products may have side effects and may exacerbate these conditions. to show an effective solution to the skin without side effects and, like the BioTense line, BioMedical also carries the EcoCert Label.
Why should you use a certified Cosmos-Organic Certified Skincare Line? Not all organic products are made equally. Look for the EcoCert label on any cosmetic products. The diathermic method developed at Nelly Devuyst ensures maximal synergy and absorption of active ingredients, with ultralight textures that are perfectly compatible with skin tissue. They are exclusively carried at Farah Dermatology & Cosmetics in the Upstate NY area.
Learn More About Biotense
Learn More About Biomedical